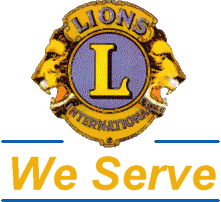 The Lions Are ...
Men and women who believe that by working together they will accomplish far more than would be possible as individuals.

Members committed to solving worldwide health and social problems, and who realize that solutions are possible when every Lions club does its share.

People who cherish the fellowship of their own club, but who also feel a close kinship with Lions in over 180 countries and areas throughout the world.

Patriotic citizens of their own countries, who, in the global community, strive for a world at peace.

Individuals dedicated to maintaining the highest ethical and moral standards in their club-- and in their personal lives.

People who are serious about their commitment to humanitarian service, but have fun along the way.
The work of Lions Clubs since 1917 has resulted in...
Creation of Sight First, a blindness prevention program that aims to eliminate preventable and reversible blindness worldwide.

Establishment and operation of a majority of the world's eye banks, resulting in approximately 10,000 sight-restoring corneal transplants every year.

Development and implementation of the Lions-Quest life-skills curricula, which have provided millions of young people with the skills to make responsible decisions to refuse drugs, alcohol, tobacco and other threats to a healthy future.

Hospitals, clinics, playgrounds, parks and thousand of facilities that enhance day-to-day life in our communities.

Services to the blind, including dog guides, white canes, and a wide variety of employment opportunities and vocational training.

Immediate disaster relief and support for rebuilding efforts.

The sponsorship of Leo clubs and participation of young adults in youth exchanges and international youth camps. These provide a firsthand opportunity for youth to experience the first object of Lions Clubs International: To create and foster a spirit of understanding among the peoples of the world.
For more information on Lions Clubs International, mail to Membership Operations Department at Lions Clubs International Headquarters - USA at lionextension@worldnet.att.net to request "The Lions...We Serve" brochure.